pita hall
Directions to PITA Hall:
8 Plum Island Turnpike.
Newbury, MA 01951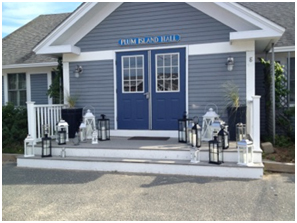 You can rent PITA Hall for your events, discounts for members.
PITA Hall now has WIFI and a HiDef TV Screen, new kitchen, and an electronic sign for announcements.
Reduced Hall rental rates for weekday 1/2 day business meetings. Join now and save!
Join Pita
Please consider joining PITA to support ongoing island activities and social events.
Contact
[email protected]
Rent PITA Hall
Weekend Rates
Member
$325
PI Resident Non-Member
$375
Non-Member
$450
Commercial
$550
Weekday Monday-Thursday ($100/half day)
$200
MERCY MEALS Please NOTE: free use of the Hall to Island residents for mercy meals, and recognition of your loved one on the PITA sign.

Contact Frank at

[email protected]



Pita Hall Rental Agreement
See Recent Event Photos